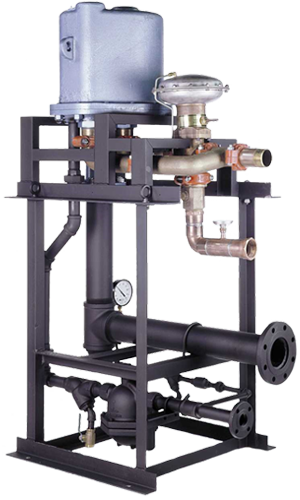 Constantemp Skid Mounted Steam Water Heaters
MODELS: E1500L, E300L, E4500L, E600L, E7500L, E900L, E10500L, E1200L
As installation costs increase and manpower availability decreases, it is more important than ever to find the most economical method of installing equipment. In most cases, installing yourself would cost less than hiring an outside contractor, if you have the manpower, the time, and the expertise. (When installing even the simplest piece of equipment, it takes time to read the instructions, determine the materials needed, purchase the materials, and complete the installation.)
The skidded Constantemp water heating system solves this problem by placing the entire system complete with steam traps, strainers, gauges and interconnecting piping on a frame or skid. Connect the steam, water, and condensate piping, and the unit is ready to use. All the guess work and preparation time is eliminated.
There is never a question as to pipe size, distance to the steam reducing valve, or proper trap installation. All the work is done for you except the utility connections themselves. The standard package has everything necessary to operate the heater. Optional equipment available includes recirculation pumps, pumping traps, steam reducing valves, and redundant safety shutdown devices. All connections are flanged and are placed at the edge of the assembly. Even the largest unit will fit through a standard doorway. Or, we can custom design a complete system to suit your unique requirements. Everything you need to get yourself in hot water—FAST-engineered, manufactured, and assembled by our steam management experts.
Condensate Pump on Skidded Heater Systems. A gas or steam powered condensate pump is available as part of any Skidded Heater System. Where electricity is not available or condensate head is greater than steam pressure to the heater, the condensate pump can be used to remove condensate. As the condensate pump tank is filled with condensate, the inlet is closed and high pressure steam or gas enters the chamber, forcing the condensate out. Condensate pumps are available on all size Skidded Heater Systems.
Applications:
Hospital Patient & Domestic Hot Water
University Dormitories
Safety Shower Systems
Industrial Shower Rooms
Booster Heater
Building Heat
Features
Single or Double Wall Exchanger
Accuracy ± 3°F
Save Time / Manpower
Feed-forward control
Completely assembled
Only 4 connections required:

Steam
Cold water
Hot water
Condensate Feed-Forward Control

Flows up to 120 GPM
Adjustable Temperature 105-180°F
No Storage Tank Required
Built In Safety
Heats Water Only on Demand
Fits Through Standard Doorways
10 year Coil and Pressure Vessel Warranty
Material
Exchanger:
Ductile iron (75 psi)
Cast Steel (150 psi)
Blending Valve:
Body: Bronze
Plug: Hastalloy
Coils: Copper Standard;
Options: Cupro-nickel
Admiralty
Stainless Steel
Design
Adjustable Temperature Range:
45-120 GPM: 105-180°F (41-82°C)
15 and 30 GPM: 105-150°F (41-65°C)
Steam pressure: 2-250 PSIG over 15 PSIG
Water pressure: 150 PSI MAX
Flow ranges: 15, 30, 45, 60, 75, 90, 105, 120
GPM: 57, 114, 170, 227, 284, 341, 397, 454 L/min
Temperature
45-120 GPM:
105-180°F (41-82°C)
15 and 30 GPM:
105-150°F (41-65°C)
Pressure
Steam: 2-250 PSIG over 15 PSIG
Water: 250 PSI Max
Capacity
Flow ranges: 15, 30, 45, 60, 75, 90, 105, 120
GPM: 57, 114, 170, 227, 284, 341, 397, 454 L/min
Options
Recirculation Package Recirculation Pump
Steam Reducing Valve
Pressure Assisted
Condensate Pump
Pressure Gradient Monitor
Certifications, Standards, & Approvals
Safe water drinking act compliant;
NSF 61 and NSF/ANSI 62