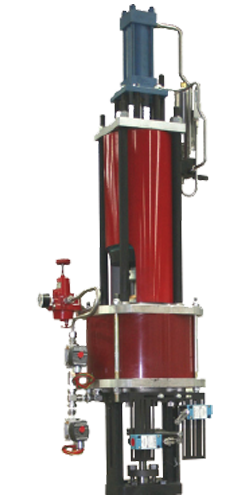 Aeroflow Severe Service Control Valves
Aeroflow Severe Service Control Valves concept integrates proven state-of-the-art design in aerodynamic/hydrodynamic flow, field-proven materials, digital positioning, and "smart" valve technology, with a modular design concept. The overall benefit of Aeroflow's technological advances is simply the most accurate, reliable control valve product line available in the world today.
Features
Aerodynamic Design
Exceeds Class XI Shutoff
Custom Characterized Trim Options
Oversized Outlet Connection
Parts Interchangeability
Material
Carbon Steel, Stainless Steel, Chrome-moly Steel
Design
Tri-Sheer Protected Seat Design, Quick Change Trim Design, Hung Cage Design, Pilot Balanced (PB), Bal. Low-Temp (BL), Bal. High-Temp (BH), Unbalanced (UBC), T²
Connection
BWE/SWE, Flanged (RF, RTJ), Threaded (Thd), Stub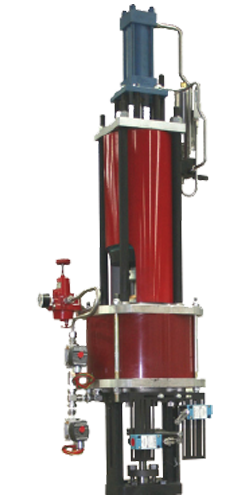 Magnum Series
Magnum Series piston actuators use low volume and long stroke to maximize bleed and feed rates. Externally mounted spring return modules minimize residual volume and maximize speed of response. This low volume translates into high speed of response. The DPS positioner, derived from our patented PMC electro-pneumatic controller technology, provides ultra-fast, stable response using a pulse modulated output and a non-mechanical, optical/digital stem position feedback. The DPS positioner supplies a digitally controlled pneumatic output (up to 12 SCFM – 60psi supply) and uses a non-contact, direct connected optical reader. With no mechanical feedback linkages to loosen or wear, accuracy and repeatability do not degrade over time.
Features
Higher working thrust capability Severe Service Actuation
Line- long stroke to 7 inch or greater-Reverse option with double acting Spring return-manual override
Aeroflow control valve with a 6″ Magnum actuator, stroke speed can exceed 3″ per second.
Material
Aluminum, Cast Iron
Pressure
Max air pressure 150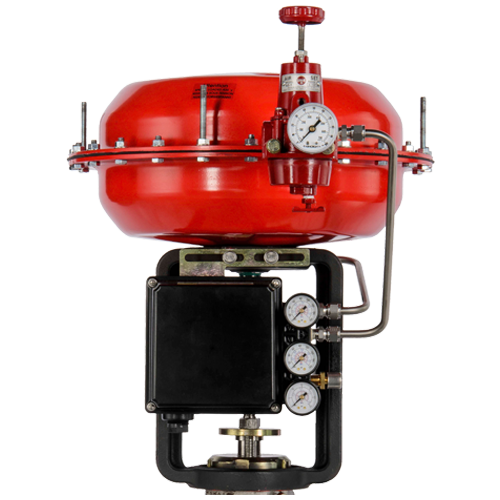 Levelmatic Liquid Level Pilot Controllers
Applications/Description
Levelmatic pilot controllers use a simple, stable, floatless differential pressure sensing principle. They require only two simple connections to the vessel (open or closed). Standard units come in two sensing ranges: 0 to 36 inches and 0 to 200 inches(H20). Normal operating pressure is 10-22 psi. Static pressure on the sensing diaphragm can be anywhere within the range of 30″ Hg vacuum to 300 psig. Options include fixed or proportional band.
Features
3 – 15 Psig Output
Fixed or Proportional Band
Bi-Metallic or Liquid Filled Temperature Element
Single-Loop Pneumatic Controller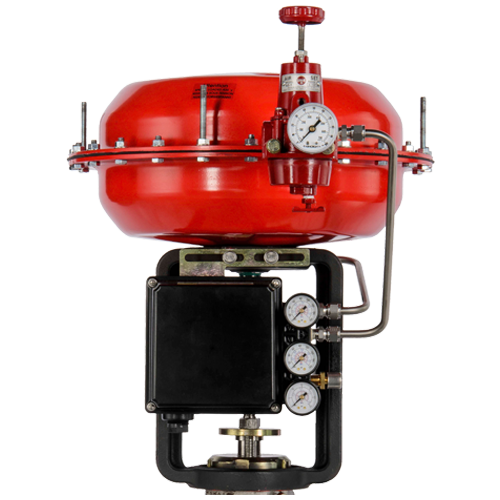 Differential Pressure Pilot UDDVP/UDRVP
Applications/Description
UDDV, UDDVP, UDRVP pilot controllers consist of a differential super structure mounted on a standard force balance or adjustable band pilot body. Suitable for differential pressure control, vacuum control, pressure control with remote set point adjustments.
Features
Two separate sensing diaphrams preventing contamination of either fluid in case of diaphram failure.