K-Max Control Valves
K-Max is designed and engineered to handle nearly all industrial process control requirements. For over 15 years, the K-Max has been in successful service, worldwide, in thousands of applications, including: high- and low-pressure steam; clean, dirty, and corrosive liquids and gases; and erosive and abrasive slurries. Other features include reduced port trim options, class V shutoff option, Alloy 6 trim hardening option, bi-directional flow capability (while maintaining shut-off class in either direction), and triple bearing large diameter precision splined shaft for tortional and flexural rigidity with excellent radial support. Efficient straight-through flow design allows for a much lower cost per Cv than conventional globe style valves, with the same degree of quality people have come to expect from Leslie. Includes:
High and Low Pressure Steam
Clean, Dirty and Corrosive Liquids
Clean, Dirty and Corrosive Gas
Erosive and Abrasive Slurries
Features
Dual Spline Driven Shaft
Large Diameter 17-4PH Stem
Triple Bearing Shaft Support
Long Packing Life and Minimized Emissions Hazard
Fewer Possible Leak Paths
Easy Trim Size Changes
Customized Trim Options
Tight Shutoff Over Extended Service Life
Easy Maintenance and Clean-out
Highly Customized Trim Options: Stainless Steel and Stellite for a Variety of Applications Such as Slurry Service, Corrosive Chemicals, Erosive Conditions, Superheated Steam.
Material
CS, SS, WCB, CF8M, Exotics
Design
Eccentric Rotary Plug Action, Self-aligning Orbital Seat, 100:1 Rangeability, Bi-directional Flow Capacity
Connection
Wafer Style, Separable Flanged, Integral Flanged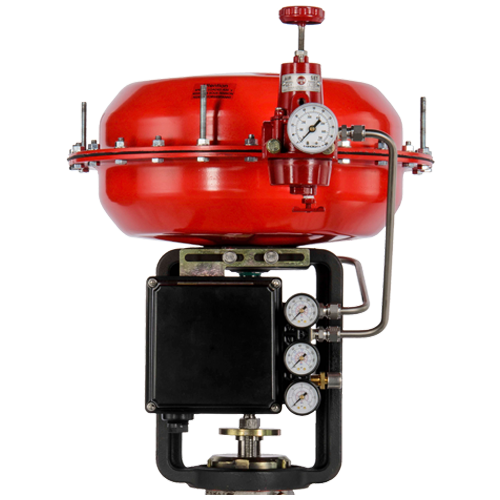 Spring and diaphragm actuators
Spring and diaphragm actuators are rugged high thrust units with flanged yoke to bonnet connections for simple maintenance and better access to stem packing. These workhorses of our control valve lines have been proven and perfected for nearly forty years of in-service usage. They are available in four sizes: 35, 55, 85, and 135 in.
Features
Compact with strength for quick, accurate control
Rugged cast iron or aluminum yoke with steel covers for long, trouble-free service
Material
Aluminum, Cast Iron
Pressure
Max air pressure:60